WELCOME TO  Cinque Terre !
EXCURSIONS FROM NICE  INCLUDING 1HOUR VISIT
Cinque Terre

FROM

170€

p/p*

*(min 3 passengers or 500€ all inclusive)

3 passengers max.

1/2 day (5H):

780€


1 day (9H): 1060€

7 passengers max.

Ask a price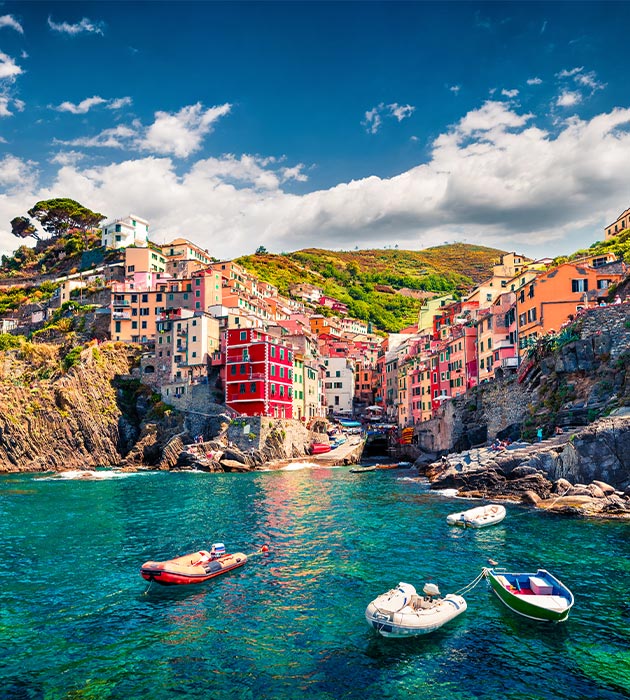 Excursion – 'Cinque Terre' A journey to another "Earth"
Enjoy your transfer from 'Nice' – 'Cinque Terre' (The 5 lands) in full serenity thanks to our private chauffeur service. Whether you are with a group of friends or traveling by yourself, we have the vehicle that is right for you.
Les 'Cinque Terre' is just a few hours from 'Nice' or 'Monaco' and is an easy choice when getting inspiration for places to visit. 'Nice Driver' offers to take you to 'Cinque Terre' via the beautiful town of 'La Spezia'. Here you have the chance to explore the magnificent landscapes when you board 'The Little Train' that runs along this beautiful coast. Just 5 minutes from 'La Spezia' and you are already in paradise: 'Riomaggiore'.
Cast your gaze, take out the cameras and enjoy the view, the landscapes are truly extraordinary!
The blue of the sea contrasts harmoniously with the multitude of colours displayed by the buildings in the village. The restaurants are varied and you will eat wonderfully well for a very reasonable price. The remaining four villages are each more beautiful than the previous: 'Monterosso', 'Vernazza', 'Corniglia', 'Manarola' are all waiting for you to discover them!
WOULD YOU LIKE AN EXCURSION ?
FROM NICE AIRPORT TO MONACO, CANNES, MILAN AND SAINT TROPEZ
luxury
& security
CANNES
Just enjoy the transfer
A Professional service
Saint-tropez
For a luxury stay
Amazing
destinations
valensole
Enjoy the most beautiful destinations
Customized
events
vintimille
discovering gems