WELCOME TO  Nice !
EXCURSIONS FROM NICE  INCLUDING 1HOUR VISIT
Nice

FROM

30€

p/p*

*(min 3 passengers or 90€ all inclusive)

3 passengers max.

1/2 day (5H):

370€


1 day (9H): 650€

7 passengers max

Ask a price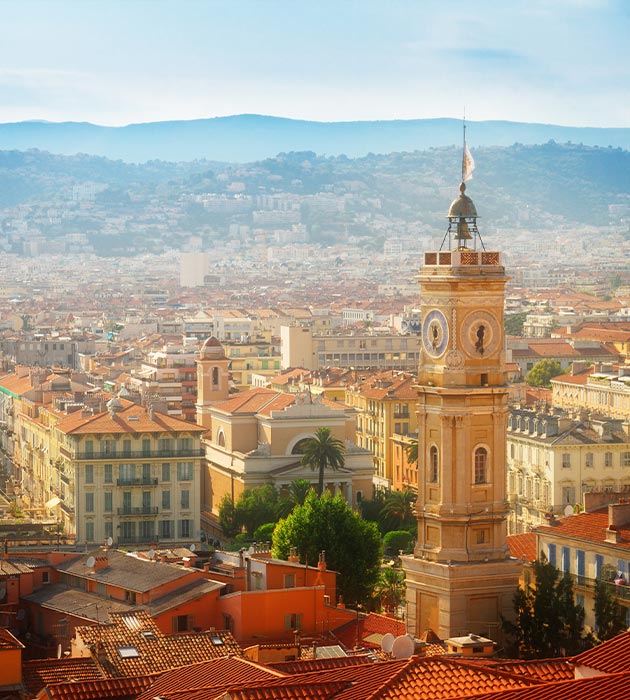 'Nice Driver' offers you a tour around the capital of the wonderful 'French Riviera'. With our private driver service, you can explore the very best of 'Nice'. Our latest generation Mercedes 'Sedans' and 'Minivans' allow you to visit 'Nice' in the very best comfort.
Baie des Anges – Bay of Angels
The famous 'Promenade des Anglais', also known as the 'Baie des Anges', is the most popular promenade of all the people of Nice. It extends for 6 kilometres from the 'Port of Nice' to 'Nice Airport'.
Old Nice
Feel the timeless charm and authenticity of Nice's old town as you walk around these magnificent colourful alleys. An extensive choice of restaurants, galleries, shops, herbs and handicrafts from the region.
'Cours Saleya' is an area of Old Nice designated to the various markets. As you walk along this extended area of cultural attractions, you see the 'Nice Opera House' and the 'Patisserie Henri Auer', which has been creating the finest chocolates and candied fruit there since 1820
– Not to be missed: The flower market. Open Tuesday to Sunday from 6 a.m.
– The 'Provençal market': Open Tuesday to Sunday from 6 a.m.
'Place Rossetti' is a lovely square with some of the most popular Gélateries and Pizzerias.
'The Cathedral of St. Reparata' in 'Place Rossetti' has an amazing colourful dome, which can easily be identified from Castle Hill.
Castle Hill
The most beautiful view of 'Nice' and the 'Baie des Anges'. The ruins of the old castle of 'Nice' remain here and at the very top, the viewpoint gives an unbeatable view over the city and extends down the coast. Prepare to be amazed by the beauty of the waterfall and the gardens bordering the green spaces of this hill.
WOULD YOU LIKE AN EXCURSION ?
FROM NICE AIRPORT TO MONACO, CANNES, MILAN AND SAINT TROPEZ
luxury
& security
CANNES
Just enjoy the transfer
A Professional service
Saint-tropez
For a luxury stay
Amazing
destinations
valensole
Enjoy the most beautiful destinations
Customized
events
vintimille
discovering gems