WELCOME TO  Eze !
EXCURSIONS FROM NICE  INCLUDING 1HOUR VISIT
Eze

FROM

55€

p/p*

*(min 3 passengers or 165€ all inclusive)

3 passengers max.

1/2 day (5H):

445€


1/2 day (9H): 725€

7 passengers max.

Ask a price
passage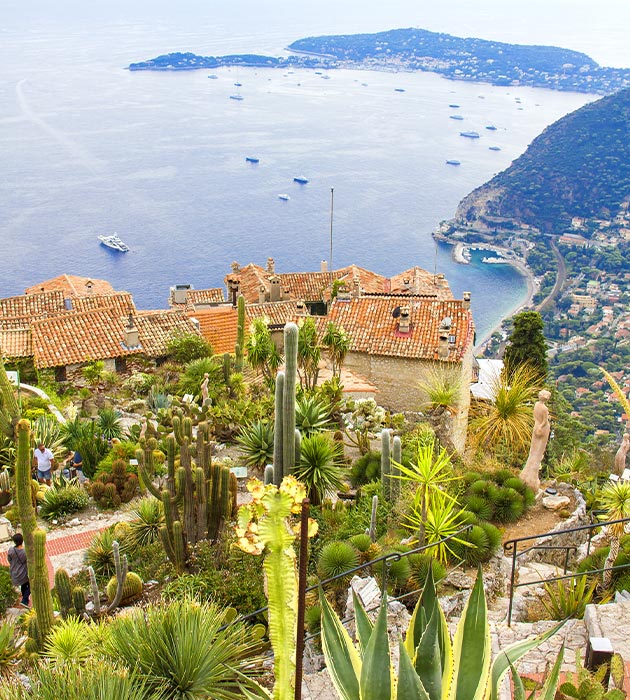 'Nice Driver' invites you to explore 'Eze Village', a very small village with great assets. Nestled at the top of a rocky mount like an eagle's nest overlooking the Mediterranean, Èze is a destination we really recommend you visit.
Medieval village
One of the oldest villages of the region with a breath-taking view of the Mediterranean. You can really appreciate the old stone labyrinth of narrow lanes steeped in history.
Jardin Exotique – Exotic Garden
The exotic garden of Eze is home to several dozen species of succulent plants and xerophytes from all continents of the globe. Positioned right at the top of the village, it gives, what many claim to be, the best view of the coastline and the 'St Jean Cap Ferrat' peninsula.
La Chèvre D'or – The Golden Goat
This 5 star hotel has a 2 Michelin star gourmet restaurant which is often the meeting place for the celebrities and film stars when they come to the French Riviera. It also boasts fantastic views that overlook the 'Côte D'azur'.
Chateau Eze
This 400 year old luxury hotel is a fundamental part of this medieval village and also has a wonderful restaurant which must be visited.
WOULD YOU LIKE AN EXCURSION ?
FROM NICE AIRPORT TO MONACO, CANNES, MILAN AND SAINT TROPEZ
luxury
& security
CANNES
Just enjoy the transfer
A Professional service
Saint-tropez
For a luxury stay
Amazing
destinations
valensole
Enjoy the most beautiful destinations
Customized
events
vintimille
discovering gems