WELCOME TO Vintimille !
EXCURSIONS FROM NICE  INCLUDING 1HOUR VISIT
Vintimille

FROM

75€

p/p*

*(min 3 passengers or 225€ all inclusive)

3 passengers max.

1/2 day (5H):

505€


1 day (9H): 785€

7 passengers max.

Ask a price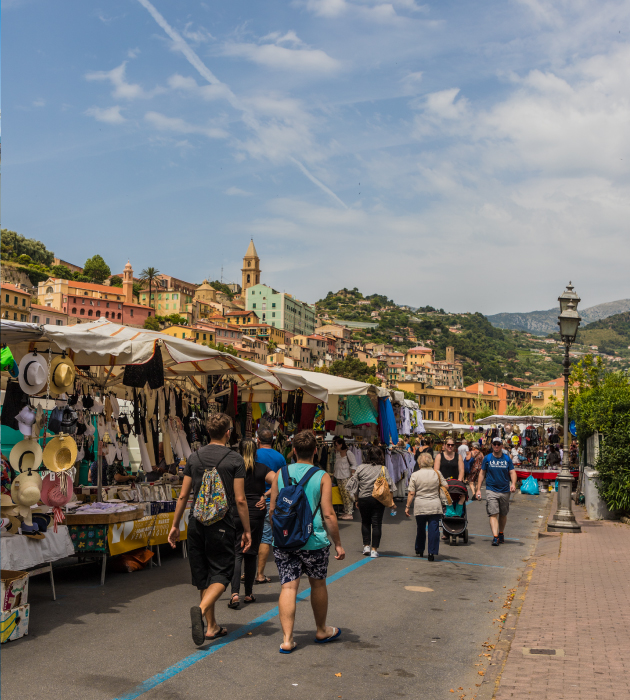 Excursions to Ventimiglia – The Italian market
'Nice Driver' invites you to discover 'Ventimiglia' for the day or for just a few hours. The drive is 1 hour from 'Nice' and 30 minutes from 'Monaco' before finding yourself in 'Italy'. Our private chauffeur service will take you to the large Italian market, which takes place every Friday from 6 am until 5 pm.
The Ventimiglia market offers a wide variety of amazing food, clothing and more on its stalls. The taxes in 'Italy' are much lower than they are in 'France', which allows shoppers advantageous prices on spirits and cigarettes. The sights, smells and tastes of all this wonderful local produce along with the sound of the beautiful Italian language give this border town all its liveliness and charm. A real slice of Italian culture.
WOULD YOU LIKE AN EXCURSION ?
FROM NICE AIRPORT TO MONACO, CANNES, MILAN AND SAINT TROPEZ
luxury
& security
CANNES
Just enjoy the transfer
A Professional service
Saint-tropez
For a luxury stay
Amazing
destinations
valensole
Enjoy the most beautiful destinations
Customized
events
vintimille
discovering gems